BOSTON, MASSACHUSETTS - THURSDAY, JUNE 8, 2017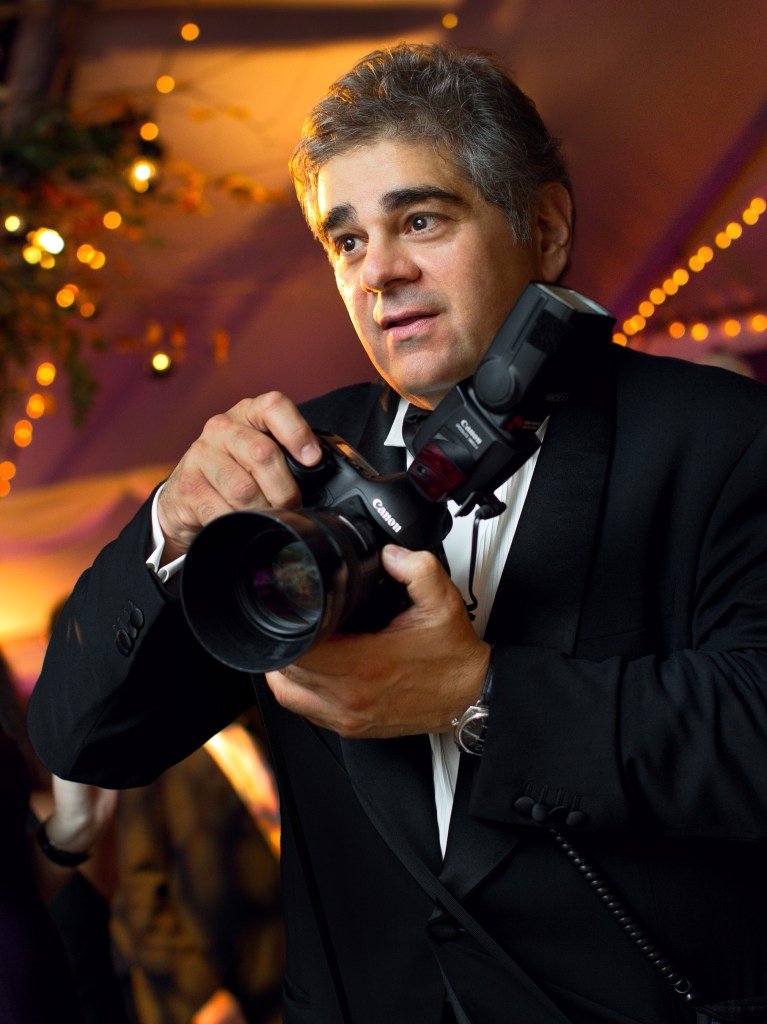 Denis Reggie is widely regarded as the top wedding photographer in the world. He single-handedly transformed the look of staid bridal imagery into the truly natural, editorial style he termed wedding photojournalism. His iconic photograph of John Kennedy, Jr. kissing the hand of his bride Carolyn Bessette is credited by The Wall Street Journal as the watershed image that transformed the look of wedding photography forever and is hailed by editors as "the most famous wedding photograph in history." A series of his wedding photographs requested by the Smithsonian Institution are part of the permanent collection at the National Museum of American History in Washington. He directs a small, elite team of protégés dispatched to wedding assignments but only after no less than 12 years of side- by-side training with him.
"the great wedding photographer of our day"
~Town and Country
The American Photo magazine cover story "The Top Ten Wedding Photographers in the World," listed Denis Reggie first among them. For a series entitled "World's greatest wedding photographers," a BBC film crew traveled from the U.K. to Reggie's home base in Atlanta to produce a 22-minute documentary devoted to his celebrated photography approach. Reggie was interviewed in Shanghai and featured in a one hour biography on China Television's Art and Celebrity Channel.
"best in the business"
~Oprah Winfrey
"the most influential wedding photographer in America"
~Eastman Kodak
His distinctive, spontaneous images have been featured on the cover of LIFE magazine, and named in "Photographs of the Year" by People, LIFE, Time, and Newsweek among other publications. He has been interviewed numerous times as a guest on NBC's Today show and has appeared as a guest on Oprah! His photograph of Oprah Winfrey with Jacqueline Kennedy Onassis was highlighted on an episode of Oprah's Favorite Things. He has been featured on Entertainment Tonight, VH-1, E! Entertainment Television, CNN and Fox in national and international broadcasts.
"a storyteller with a camera...hottest wedding photographer of the moment"
~The New York Times
Denis Reggie is routinely quoted and has been subject of feature stories in each of the major wedding and photography magazines and in various newspapers including a lengthy Style section profile in The New York Times. A native of Crowley, Louisiana, he was subject of an episode in the popular Louisiana Public Broadcasting series Louisiana Legends. In 2009, he received the Outstanding Alumni Award - the highest honor bestowed on graduates of the University of Louisiana.
"best of the best"
~Harper's Bazaar
His photographs are frequently used in books on weddings, etiquette, and photography including those by Vera Wang, Letitia Baldridge and Town and Country. Reggie's warm and captivating portrait of thelate Senator Edward M. Kennedy is featured on the cover of his autobiography- and New York Times best seller -True Compass. His 2008 portrait of Senator Kennedy has been requested by the Smithsonian's National Portrait Gallery in Washington for its permanent collection.
"the finest wedding photographer of his generation"
~Photo District News
Denis Reggie's celebrity client lists reads like a Who's Who among America's elite:
Designer Tory Burch; Federal Reserve Chairman Alan Greenspan and NBC News correspondent Andrea Mitchell; ER television star Noah Wyle; Eagles singer/songwriter Don Henley; actor Chris O'Donnell; designer Vera Wang for her New York wedding; former U.S. Senators Howard Baker and Nancy Kassebaum; designer Reed Krakoff; Metromedia president John Kluge; Forrest Gump producer and New York Giants co-owner Steve Tisch; civil rights activist Martin Luther King III; Sony Music president Tommy Mottola; author and Vanity Fair writer Dominick Dunne; famed Duke basketball coach Mike Krzyzewski; John Kennedy, Jr. and Carolyn Bessette; author Tom Clancy; football great Frank Gifford; actor and philanthropist Paul Newman; Vice President Al Gore for wedding of daughter Karenna Gore; Home Depot co-founder and Atlanta Falcons owner Arthur Blank; financier Saul Steinberg; beauty expert and Allure editor Linda Wells; ABC News anchor Peter Jennings; Oprah Winfrey; actress Carey Lowell; Teresa Heinz Kerry; television's Catherine Crier; cable television magnate Ted Turner; Secretary of State John Kerry; designer Lisa Frank; television anchor Campbell Brown; New Line Cinema CEO Michael Lynn; CBS News correspondent and longtime Face the Nation host Bob Schieffer; models' agent Eileen Ford; Warner Music's Edgar Bronfman, Jr.; heiress Christina Getty; Jacqueline Kennedy Onassis for the wedding of daughter Caroline Kennedy; ABC's Roone Arledge; Limited founder Leslie Wexner; NBA basketball sensation Dominique Wilkins; pop singer/songwriter Mariah Carey; political strategists Mary Matalin and James Carville; Coca-Cola CEO Neville Isdell; actress Holly Hunter; Ambassador Jean Kennedy Smith; All-Pro NFL linebacker Keith Brooking; billionaire industrialist David Koch; Backstreet Boys lead singer Brian Littrell; hotelier Rand Araskog; bridal designer Anne Barge; socialite Tinsley Mortimer; American Idol's Paula Abdul; football legend Fran Tarkenton; author Nancy Friday; then-Wall Street Journal editor Norm Pearlstine; actor Emilio Estevez; basketball star Shareef Abdur-Rahim; Grammy-winning producer Matt Serletic; Gannett CEO Douglas McCorkindale; Maria Shriver and Arnold Schwarzenegger; Academy Award® winning Spielberg cinematographer Janusz Kaminski; designer Kenneth Cole; Alexandra Miller and Prince Alexandre von Fürstenberg; singer-songwriter James Taylor; New York Governor Mario Cuomo; Coca-Cola president Donald Keough; NFL commissioner Pete Rozelle; actor James Garner; television personality Leeza Gibbons; Ethel Kennedy; actress Susan Lucci; former New York mayor Rudolph Giuliani; NBC for multiple weddings broadcast live on top-rated Today show
"...every bride is a celebrity on her wedding day"
Denis Reggie
Of 1,800-plus wedding assignments, only a limited number have been for high-profile celebrity clients. In fact, over 99 percent of Reggie wedding images are ultimately destined for couples' wedding albums, not magazines. Denis Reggie caters to brides and grooms without consideration of any résumé: bookings are simply accepted on a first-come, first-served basis for couples from every walk of life. Being chosen as event historian is an honor reflected in the spirit of the service provided to every Reggie bride. His staff is unusually experienced and sensitive in handling the details and nuances of wedding planning with Southern graciousness, warmth, and cordiality. Each is genuinely interested in - and conversant with - the nature of nuptial events, on call to respond with utmost discretion. He is based in Atlanta near one of the world's leading passenger airports and readily - and frequently – documents weddings throughout the U. S. and the rest of world.
DENIS REGGIE IS SPONSORED BY: